Ian Chapp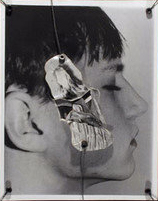 Systems Integrator I
313-577-2988
212 Schaver
Degrees and Certifications
BA - Art History, Wayne State University, 2003.
MLIS - Art Librarianship, Wayne State University, School of Library and Information Science, 2009.
Primary Research Interest
Ian Chapp is a graduate of the Institute for Museum and Library Services' Art Librarianship program at Wayne State University's School of Library and Information Science. A former HASTAC scholar, Chapp's background in Art History has led to research in both the US and abroad on topics ranging from the use of microscopy in the Detroit Murals of Diego Rivera to a Viennese Expressionist's use of a fetish doll. Recent projects include the development of cataloging schema and a digitization regime for the Michigan Opera Theatre's Allessee Dance and Opera Resource Library. Current work is addressing contemporary stereoscopy and augmented reality applications. Professionally, he strives to facilitate the opening and reframing of collections in light of the digital realm, enabling new modes of research, collaboration and teaching. Chapp is a strong proponent of the democratization of information and the proliferation of the arcana of material culture.